Events at Hotel Sevilla Gold *** Grójec
Communions, baptisms, special events, consoles – the organization of events has no secrets for us
We want each event in our hotel to be unique and be remembered for a long time by your guests.

We have many years of experience in organizing and servicing special events. Starting with choosing the right, extraordinary menu that will suit you and your guests best. By planning the arrangement of the room to the individual needs of guests. Finishing everything up with elegant decorations. From the beginning to the end of cooperation, we care about the comfort and satisfaction of our guests. The event manager watches over the event, ensuring that everything will go perfectly.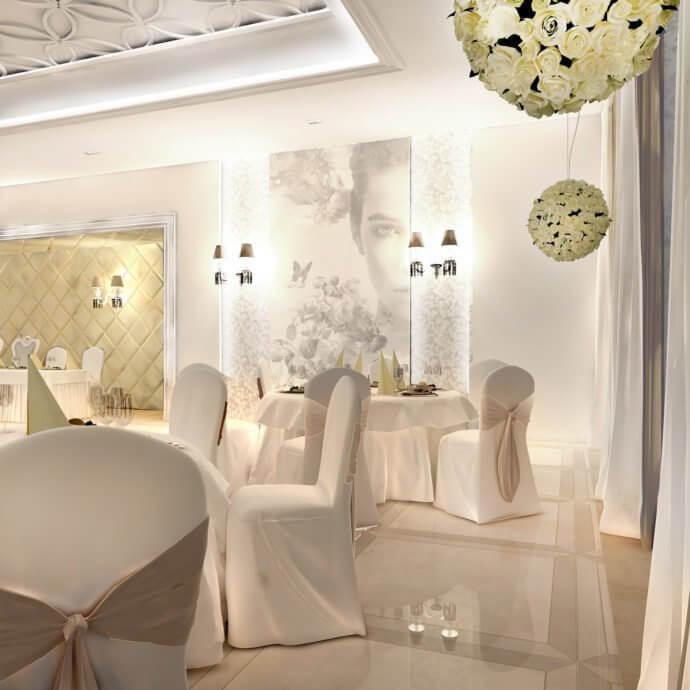 Imprezy okolicznościowe Grójec w Hotelu Sevilla Gold*** w Łęczeszycach

Events in Grójec at Hotel Sevilla Gold ***.
Organizing an event in our facility is a guarantee of a successful party during which you do not have to worry about anything. You can completely devote yourself to celebrating your special day. The best information for guests is that all responsibility for the course of the event is transferred to the shoulders of an experienced and professional team. Our advantage is many years of experience in organizing parties, communions, baptisms, consoles and all other social meetings. Working with us, you can be sure that your party will be prepared in a good style and that all details will be carefully prepared.
When designing Hotel Sevilla Gold ***, we knew that even during the best fun, sometimes you need a moment of respite. Therefore, we have arranged a large romantic garden located behind the building, allowing you to breathe in fresh air and take advantage of a bit of privacy. Within its area there are walking alleys and wooden benches surrounded by soothing greenery. The smallest guests of our hotel will also find something for themselves. With them in mind, a mini playground was created in the garden. We also offer the possibility to rent rooms at promotional prices for your guests. We have a large parking lot for about 150 cars. Our facility is adapted for the disabled. Reception and toilets will not be a problem. The entire property is equipped with air conditioning.
We are open to all your suggestions and wishes related to the organization of the event. Each party is a new challenge for us, which we will gladly take up.
Hotel Sevilla Gold *** is the best choice for events in the vicinity of Warsaw, Grójec and the surrounding area. We invite you to check the details of our offer and visualization.

Hot meals, snacks and desserts
Large selection of starters
Discounts for children (children up to 3 years old free of charge, children aged 3-10 years 50% of the menu price)
Events Grójec - what do we offer in the price?

Specially selected menu (including gluten-free, vegan and vegetarian dishes)
renting a room without hourly limits
professional waiter service
no fee for bringing your own alcohol
the manager's help during the preparations and coordination during the party
the ability to purchase alcohol at retail prices
Favorite flowers, properly selected lighting, personal accents that have a special meaning for you … If you want to give your event an individual atmosphere – Hotel Sevilla Gold *** cooperates with an experienced event manager – who will conjure up an amazing party for you. We are also able to help with hiring a DJ for special events.
We will help to arrange for an additional fee

Events Sevilla Gold - what makes us a special place?