Accommodation in Grójec at the Sevilla Gold *** Hotel has 49 beds in 28 comfortably equipped, air-conditioned rooms: 1, 2, 3 – persons and an Exclusive Room. It is possible to add an extra bed to the room – the bed size is 200 × 90 cm. We offer a facility with spacious, high-standard rooms, all with Internet access.
The Exclusive Room has a spa bath. In the first stage of the project, 14 rooms will be prepared. The rooms will be located on the first floor with access to an elevator. In the second stage, we will provide you with another 14 rooms located in the attic. All rooms will be air-conditioned. The rooms will have very comfortable beds that will ensure a good night's sleep. Peace and quiet and beautiful landscape will ensure relaxation and rest at the highest level. Don't wait, book your stay today.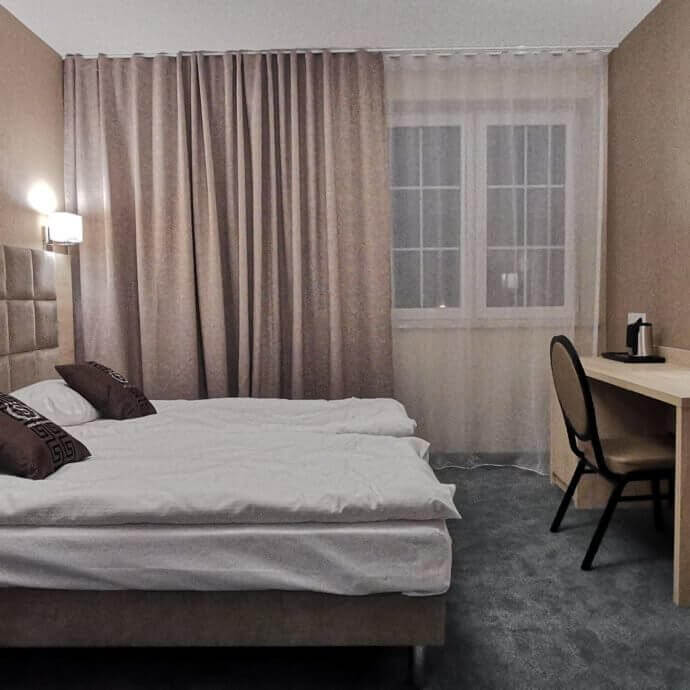 Accommodation in Grójec in Łęczeszyce - Offer

Why choose Grójec accommodation in our Hotel? Because Hotel Sevilla Gold *** is the only such unique place in Poland! We guarantee elegant and comfortable interior design. Guest rooms at the Sevilla Gold Hotel are adapted to the needs of the most demanding guests. We provide comfort and full discretion. Our idea is to say that a hotel room becomes the home of our guests during their stay.
Each of our guest rooms is elegantly and comfortably furnished, equipped with a bathroom and TV. We also offer free parking spaces and the possibility of using the hotel garden.
We offer standard and comfort rooms. In all rooms it is possible to prepare an extra bed for children. It is also possible to eat a meal in our Olivia Restaurant.
We offer our wonderful guests of the Hotel in the vicinity of Grojec:

stay in elegant and comfortable rooms
exquisite and delicious meals
spacious and fully equipped conference rooms
You will not be able to forget your stay in our hotel because of the charm of this place. Our staff is always smiling and will take every challenge professionally. We accept payment cards: Visa, Visa Electron, MasterCard, Maestro, American Express.
Accommodation Grójec - a perfect place for a conference

For corporate clients, we offer not only accommodation but also the organization of training courses and conferences. We have two modern and multimedia banquet rooms that will be suitable for events of up to 80 to 500 people. Our professional, qualified and competent team will make every effort to ensure that the organization of the event runs smoothly and without any problems.
Useful information about accommodation in Grójec at the Sevilla Gold *** Hotel
Children up to 3 years of age with parents – free of charge
Cot for children – free
Pets are welcome – PLN 50 / day
BreakFast – PLN 30 / person

OLIVIA Restaurant is open from 5 p.m. to 8 p.m.
direct telephone connection
place to work
wireless internet access
Satellite TV
iron (on request)
air conditioning
coffee and tea
mineral water
kettle
hair dryer
hotel cosmetics
Prices in PLN gross for one hotel day. The price includes: tax on goods and services (VAT), unguarded parking, wireless Internet access, children up to 3 years old with their parents.

The hotel day starts at 14.00 and ends at 12.00.
It is possible to extend the day to 18.00 – the cost of extending the day is PLN 150 per room.
SMOKING IS PROHIBITED IN THE ROOM
PENALTY FOR SMOKING PLN 500