Wedding hall at the Hotel Sevilla Gold *** invites guests from Grójec and the surrounding area to organize an unforgettable and unique event, which the wedding undoubtedly is. 
Our motto – It must be like a couple dreamed – We want to give you the most beautiful memory of this special day.
Every detail counts here: perfect wedding organization, menu that will satisfy everyone's tastes, beautiful visual setting. We have the ability to understand what is most important to the Bride and Groom. It is supposed to be the most beautiful day in the life of each future bride and groom, so it must be special and we will take care of it.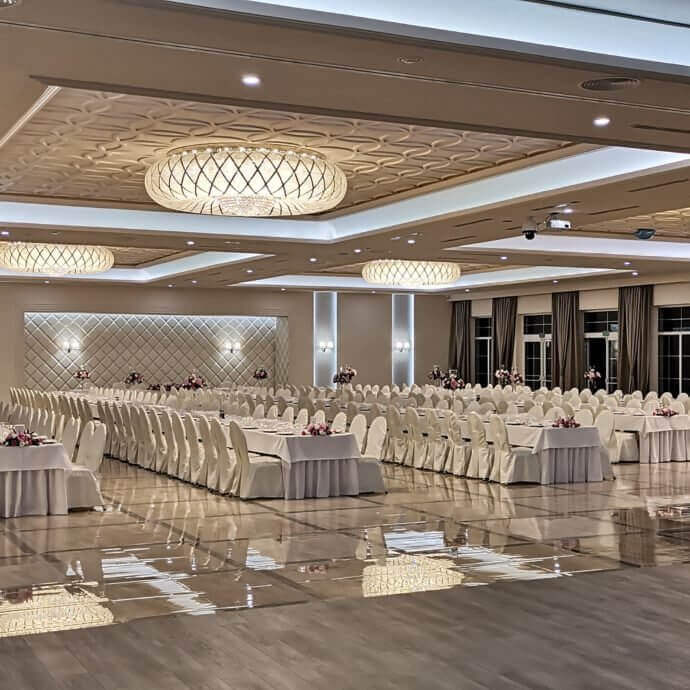 The Grójec wedding hall at the Hotel Sevilla Gold *** in Łęczeszyce offers

The Sevilla Gold *** wedding hall is a refined elegance and an effective style, which is definitely the Glamor style. We focus on controlled excess and dazzling accessories. Hence, the hall has 2.5 meter high crystal chandeliers with an ornament pattern taken from the Spanish cathedral. We can also admire the ornament motifs placed on the furniture finishes and richly decorated ceilings.
When designing the Sevilla Gold *** hotel, we have not forgotten about a beautiful and romantic garden and a gazebo that it's perfect for an outdoor wedding. Children, the youngest guests of our hotel, are also very important to us. With them in mind, a mini playground was created in the garden. We offer wedding guests a stay in comfortable, spacious rooms, in a promotional prices. Guests can also use a large parking lot (for about 150 cars), and our facility is adapted for the disabled (reception and toilets) and is fully air-conditioned.
We are open to all suggestions and wishes regarding this very special moment. We approach new challenges that you set us with commitment and openness. We feel responsible for your reception and your guests, we will do our best to meet your expectations. The Sevilla Gold *** wedding hall is the best choice for a wedding in the vicinity of Warsaw, Grójec and the surrounding area.
We invite you to get to know the details of our offer and visualization.

Hot meals, snacks and desserts
A wide range of attachments
Discounts for children (children up to 3 years old free of charge, children 3-10 years old 50% of charge)
Wedding hall Grójec - what do we offer in the price?

greeting with bread and salt
a unique menu (we also offer a menu for vegetarians, vegans, gluten-free)
renting a room without hourly limits
service during the entire party
coordination and assistance of the manager during the preparations and the party
no extra fee for bringing your own alcohol
the ability to purchase alcohol at retail prices
For all newlyweds signing an agreement to organize a wedding party, the Sevilla Gold hotel offers accommodation in a luxurious suite with a bed and a jacuzzi for free.
We will help you arrange for an additional fee:

Wedding party at Sevilla Gold - what distinguishes us?